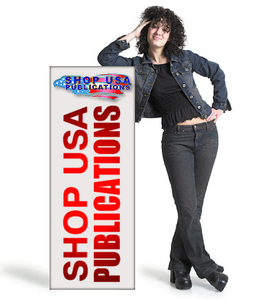 SHOP USA Publications comprises of a variety of different Publications which include Kingman PennySaver, Bullhead/Fort Mohave PennySaver, Colorado River PennySaver, Golden Valley Star, Shop Kingman, Shop Golden Valley and The Mohave County Real Estate.  We service businesses and the public throughout Mohave County and Laughlin, Nevada.  Our goal is to help businesses grow through print advertising at affordable prices.  We also help the public by offering Free Classified ads in the PennySaver publications both in the Mohave County and Laughlin, Nevada areas. We distribute to over 400 locations in Mohave County and Laughlin Nevada. Our distribution includes major grocery stores, Department stores, restaurant, etc.  Please contact us for our affordable rates & specials in any of our areas.
To see our latest issues please click HERE or go to our menu and click on Our Products.
To place a free classified ad in one of the Penny Saver publications please click on this red "FREE" link or on the menu under "Our Services" and fill out the form.  You may also place a paid ad by clicking HERE. Classified ad is free up to $10,000 or less per item and 25 words or less per item.